The earliest record for the family, so far, is for David Richard of Pemtrimbach Abergwilli probably around 1770. His son Henry Richard born 1816, who in 1838 was living at Penyrheol married Anne Thomas who was living at Ffynnondawel at Llanegwad Parish Church on the 16th April October 1838. Thier eldest son David Richard was born at Banc Monachty on the 6th November 1845. The Registrar added the leter 's' to the surname which has remained ever since, David married Sarah Lloyd of Pantygog at the same Church on the 1st April 1864. They moved about 1875 to Dunvant Glamorgan, where David became a miner. They had 8 children in total.


David & Sarah's son John was born at Cwm-byr-bach and christened at Llanegwad Parish Church on the 28th February 1874, he became a fireman at Fairwood Common Colliery. He married Mary Ann Isaac of Killay at St. Martins Church Dunvant on the 18th December 1897. He later traded as a Coal Merchant. Killay Post Office was built for Mary by Sir Robert Morris in 1897.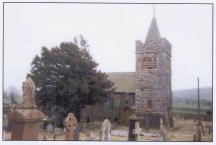 Llanegwad Parish Church
Their eldest son John Gilbert Richards was born 2nd January 1904. He joined the South Wales Omnibus Company. On the 31st October 1936 he married Hannah Williams of Gorseinon. They lived in Killay, then at Brynmill before returning to Killay in 1954 where they lived out their lives.
Their son David Frederic Bryan Richards was born in Gorseinon 25th May 1939, qualified as a radio officer and served in the Merchant Navy.On the 1st February 1964 he married Mary Cecilia Robbins from Doncaster Yorkshire England. He joined the GPO Coast Radio Station at North Connol Argyll Scotland,
& later at Portisheadradio Highbridge Somerset England. Appointed Department of Transport Marine Radio Surveyor Cardiff in 1985 they moved to Cowbridge South Wales. They remain living in Cowbridge, Vale of Glamorgan. They have two sons, the eldest David Brenig Richards lives with his wife Deboah Jayne(nee Pither of Brighton England) and their 3 children John, Mark and Emily in Darmstadt Germany. Their youngest son Simon Brisco-Richards lives locally with his wife Mandy Claire (nee Moran of London ) and their two daughters Claire and Hailey Wilson.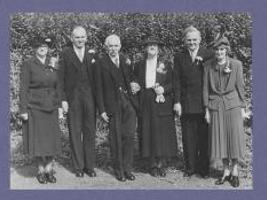 Richards Family Killay Post Office
1897 -1956